Village & Surrounds
Wine
Séguret
Pop. 900
Séguret has been a wine producing area since the 13th century. Wines can now be produced under its very own AOC classified as Côtes due Rhône Village – Séguret. A must visit is the local co-operative – La Cave des Vignerons de Roaix-Séguret. Details of individual winemakers eager to receive you are available upon request.
Faucon
Pop. 350 (20 minutes drive)
Visit special friends to Postcards from Provence, Jean and Sylvie Beaumont at Domaine du Faucon Doré at nearby Faucon. Sylvie will welcome you at the cellar door (don't be shy, go right in, this is a working 'farm'), wave to Jean and son Damien (trainee vigneron) as they work the fields (following a strictly organic regime).
It is an easy stroll to their 'cave' at the edge of the village in the late afternoon, taste some or all of the 11 labels from white to rosé to red, buy to drink with dinner or to take back home tightly packed.
Sylvie speaks very good English and is the local information point of contact, so ask for recommendations for all your interests.
Visit their website: http://faucon.dore.free.fr.
Châteauneuf-du-Pape
Pop. 2100 (30 minutes drive)
Reds to match the greats of Bordeaux – the ruin of the château dominates the skyline as you drive through vines flourishing in fields covered with large smooth stones. There are many cellar door tasting rooms in the village, be ready to pay for the tasting if you do not buy. Châteauneuf-du-Pape is an appellation (AOC) and a village.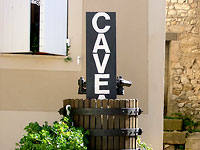 Gigondas
Pop. 650 (10 minutes drive)
More great reds, visit La Cave in the village centre, taste a range, take home the best, enjoy the view.
General
The supermarkets in Vaison la Romaine have rows and rows of wine from other regions of France, near neighbours and the 'New World'. Also search out the boutique wine cellars in the town, experiment.
Wine Trails
Go to the section on 'driving' for information on wine trails that will take you on an orderly tour through distinct wine areas around the main centre of Vaison la Romaine.