Village & Surrounds
Ruins & Castles
Study up before you go, visit Provence Web, informative, or take a guide book and follow the crowd. The 'Villages' section of the Provence Web site gives detailed information village by village with links to neighbouring centres. Start at Séguret and radiate out.
Avignon
Pop 88000 (45 minutes drive)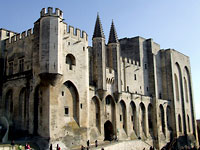 You'll need more than one day! Visit the Palace of the Popes, stroll on the bridge that stops mid-crossing (remember the childhood rhyme "Sur le Pont d'Avignon"), make time for museums and art galleries, and of course, lots of shopping, restaurants and cafes.
Arles
Pop 51,600 (1 hour 20 minutes drive)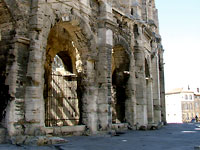 Gateway to the Camargue, land of black bulls, white horses, salt planes, red rice and pink flamingoes. Visit the Museum de l'Arlaten to understand this very distinctively different area of Provence. Walk around the Arena, consider a bull fight or 'bull game' (the bull survives to fight another day), follow in the footsteps of Van Gogh.