Village & Surrounds
Location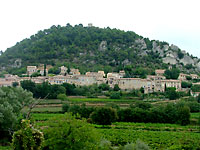 Séguret is in the Vaucluse department (84), close to Vaison la Romaine and Avignon.
To get there:
Fly into Paris Charles de Gaulle, catch the fast train TGV direct from the airport to Avignon (3 hours), hire a car at the station, drive to Vaison la Romaine (50 minutes), quick stop at the large supermarket on the outskirts to pick up food and wine supplies, drive to the village (< 10 minutes).
Or fly into Avignon or Marseille or Nice then drive direct to the village (45 minutes, 1.5 hours, 3 hours respectively).
Better still, take your time and drive from Paris (7 hours) with a stop over about half way in Beaune in the Burgundy region, drink Chardonnay and Pinot Noir and sample Boeuf Bourguignone.
For more information on the village, visit Provence Web - Séguret.