Village & Surrounds
Driving
Just point the car and go
To drive aimlessly is a true pleasure in itself but when time is short and the next visit a long way off, it is best to have a destination.
The Web
Before you go check Guide Web - for wine routes, the main attractions along the way, the distances.
Coloured Wine Roads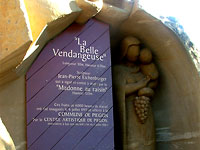 You will see many signs on the roadside - Route Touristique des Côtes du Rhône - with a coloured border and same coloured single vine leaf. Pick up the brochures that give you the itinerary for each route from the main tourist office in Vaison la Romaine (the downstairs shop area, there is very limited assistance in the small office at street level). There are nine: Safran, Sepia, Corail, Mauve, Indigo, Turquoise, Azur, Emeraude and Pourpre. The guide books are in French and English. Each gives a short introductory piece on the area, a detailed map, and long lists of the wine houses and opening times.
Sault
Pop 1200 (1 hour drive)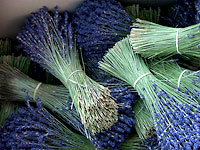 This is lavender and nougat country. If you are lucky enough to be there in July or August you will see purple fields before the harvest. After that the landscape is still fascinating with the long tubular mounds tinged very slightly with stray lavender sprigs that have escaped the harvester blade. Buy tablecloths and chirping ceramic crickets (cigalé), taste hand made nougat at the Nougaterie Boyer, sip coffee and stare at the valley below from a cliff edge restaurant.
Mt Ventoux
(about 1 hour drive)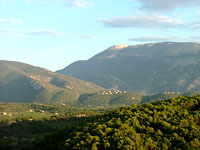 Majestic from afar, a labour to drive up, a miracle the bike riders make it. "The Beast" invites you to conquer it but take your warm woollies as the top is swept by icy winds. Try the steep drive up through Malaucene and a more leisurely descent down the other side and combine it with a trip to Sault.
Further affield
Marseille (1.5 hours), Lyon (2.5 hours), Nice/Cannes/St Tropez (3 hours and less), Barcelona (4.5 hours), Cinque Terra Italy (6 hours).
Road Journey Planner
Before you go, check Mappy - detailed instructions, timing of the trip, cost of tolls and a map - very accurate.