Village & Surrounds
Markets
Village Market
Most villages have a visiting bread van, arriving with a blast of the horn at the same time and place each allotted day. And there is usually a small food market one or two afternoons a week, buy fruit, vegetables, chacuterie, cheese, meats. Look for the community notice board at the Mairie's office for times and days.
Vaison la Romaine
Pop. 6500 (< 10 minutes drive)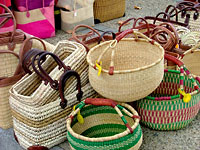 Tuesday morning is the main market, the streets fill with stalls, go early, it closes at 12.00 noon, be prepared for the challenge of finding a parking space, learn to jump gutters. Everything is available - from food to fabrics. There is a smaller market Saturday mornings and a brocante (antiques and bric-a-brac) once a month.
Nyons
Pop. 2000 (in the next department the Drôme, 30 minutes drive north)
Thursday morning, many of the same traders as in Vaison la Romaine but stalls more spread out, easier to simply meander, have a coffee or kir and people watch, and take the opportunity to discover the village itself. Buy some olives and olive oil.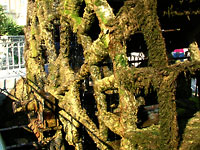 L'Isle sur la Sorgue
Pop. 17500 (45 minutes drive south)
Sunday, all day, larger market, with antiques as well. Stalls line the waterways running through the town, be sure to find the moss covered working water wheel. Buy lavender and spices.
Others
For more market locations and times go to: Beyond France.