House for Rent
Introduction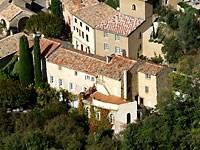 "Lou Magnou" – Séguret, Provence
Our 200 year old stone village house "Lou Magnou", has a provençal name meaning 'silk worm'. This gives you the clue to its origins as a silk making factory. Provence had a robust silk industry during the 1800s.
The house is spacious and light, suits 2 to 4 people. Guests can congregate as a group or disperse to seclusion as the mood dictates. Would you prefer the full sun of the large south west facing terrace or would you like to take tea in the sheltered courtyard outside the kitchen? Would you like to sit by the fire in the entry library room or would you prefer to be in the large sitting room and soak up the view from the four majestic arch windows looking at nothing but greenery and hearing nothing but the birds sing?
The kitchen is large enough for company when the cook is in full flight. The dining room will easily accommodate six enthusiastic dinner guests or more; the friendlier you are the more you can squeeze on.
Two double bedrooms and combined bathroom and toilet are on the first level.
The village of Séguret is heritage classified, one of the 140 villages officially rated 'Most Beautiful Villages of France'. It is 45 kms from Avignon and 9 kms from Vaison-la-Romaine. The house is within the village but on the edge. It is a quick walk around the corner to winding cobbled streets and many cafes and restaurants, a number of artist, santon, pottery workshops and galleries, an antiques store, and a specialist Provence postcard and poster shop. There is a beautiful 10th century church, a majestic belfry and imposing city walls from the 14th century, a picturesque 15th century fountain. The château ruin high above the village is 12th century. The view to the vine covered valley below is surpassed only by the lacey outlined backdrop of the Dentelles de Montmirail.